RBI cautions UCB directors against camouflage of financial position
Aug 31, 2023
The RBI held a Conference of Directors on the Boards of Tier 3 and 4 Urban Cooperative Banks (UCBs) in Mumbai Zone
Flagging the need to enhance integrity and financial profile, the Reserve Bank of India (RBI) on Wednesday cautioned directors of Urban Cooperative Banks (UCBs) against the use of innovative accounting practices to camouflage the actual financial position.
UCBs have to strengthen their financial and operational resilience so as to contribute to the overall financial and banking sector stability.
While the UCB sector has displayed improved financial performance at an aggregate level in recent times, concerns and vulnerabilities are seen for certain individual entities.
Addressing directors of select UCBs, Shaktikanta Das, RBI governor, said the role of directors was very significant in ensuring the integrity and transparency of financial statements.
The RBI held a Conference of Directors on the Boards of Tier-III and Tier-IV UCBs in the Mumbai Zone.
The Governor inaugurated the conference on the theme 'Governance in Banks - Driving Sustainable Growth and Stability'. Tier-IV UCBs are entities with deposits above Rs 10,000 crore, and Tier-III consists of Urban Coop Banks with deposits between Rs 1,000 crore to Rs 10,000 crore.
The RBI has started engaging with the directors of its Regulated Entities functioning in different segments of the financial system.
Two separate conferences were held with directors on boards of Public Sector Banks and Private Sector Banks in May 2023.
Going forward, the central bank would be convening similar conferences of directors on boards of other UCBs in other regions of the country.
There was also a need for the board's involvement in upholding rigorous credit risk management, including robust underwriting standards, effective post-sanction monitoring, timely recognition and mitigation of incipient stress.
The board has a crucial role in the rigorous follow-up of large NPA borrowers for effective recovery, and maintaining adequate provisioning, he said.
The Governor stressed that the quality of governance was the most important aspect in ensuring the stability of individual banks and urged the directors of UCBs to further strengthen governance practices, especially the three supporting pillars of Compliance, Risk Management and Internal Audit.
It has adopted a four-tiered regulatory framework for the categorisation of UCBs, given the heterogeneity in the sector.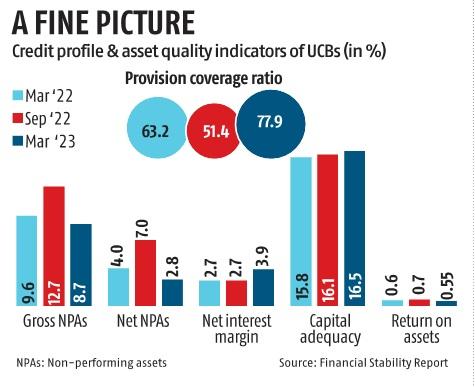 [The Business Standard]